The business realities of global trade are constantly changing. Not only do importers and filers have to adapt to meet these realities, CBP does as well. The increasing complexity of global trade means more joint ventures, more complex import transactions, and simply many other situations that were not envisioned during the drafting of many import laws. These days many import transactions contain indeterminable information – that is at the time of import. More and more transactions involve adjustments to the price paid or payable that are not known until months after the import transaction occurs. Filers and ports of entry established processes and procedures for reporting these adjustments such as protests and prior disclosures. These local versions of "reconciliation" were problematic because the procedures varied from port to port, often had no legal basis, and lacked adequate financial controls.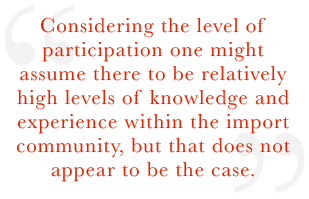 This all changed with the 1993 Modernization Act (Mod Act) which provided legal authority for reconciliation, record keeping requirements, and concepts such as "reasonable care" and "shared responsibility." In short, the reconciliation (prototype) program enhances the entry summary process by allowing indeterminable information to be identified and reported to CBP at a later time. Today the reconciliation prototype allows importers to report adjustments for Value, 9802, NAFTA, & Classification – on a very limited basis. At the time of import, the best available information is reported on the entry summary and this information is sent to ABI (Automated Broker Interface) along with an electronic "flag" telling CBP that corrected information will be supplied at a later date via a type "09" reconciliation entry.
CBP reported that in 2012 approximately 4300 resident and nonresident importers flagged over 2.5 million entry summaries. Considering the level of participation one might assume there to be relatively high levels of knowledge and experience within the import community, but that does not appear to be the case. There isn't a day that goes by that I don't spend time educating importers about the program.
The reconciliation program allows importers to advise Customs at the time of import that an entry summary may contain one or more data elements that are incorrect or indeterminable. In Customs eyes they much prefer to be advised on the front end that post entry type adjustments may be forthcoming instead of being inundated with post entry submissions, PEA's, protests, and disclosures to name a few. This is important because CBP tracks post entry submissions and disclosures. High volumes of post entry submissions can have an adverse impact, specifically in the form of an audit. Currently the program allows summaries to be flagged for Value, HTS*, 9802, and NAFTA related issues. By advising or flagging the summary at the time of import, the importer is given or has up to 21 months from the entry summary date (Value, HTS*, and 9802) and up to 12 months from the import date (NAFTA) to reconcile or advise Customs of any changes. There is no penalty for flagging a summary that does not require or have any reportable changes. Note that in order to flag summaries for classification issues an importer MUST have a pending administrative ruling, protest pending, or a pending court action.
By far the most common reason for importers participating in the prototype is value related issues. Valuation includes but is not limited to transfer pricing, assists, tooling, dies, molds, royalties, and volume discounts. Reconciling standard cost to actual cost – a common scenario for importers using maquiladoras – is also a popular reason for flagging summaries for value. 9802, not nearly as common, allows importers to correctly report their 9802 (U.S. content) as it is sometimes very difficult to accurately declare this cost at the time of import. Flagging for NAFTA allows an importer time to review their products for NAFTA eligibility and obtain refunds up to one year after the time of import. Note that quantity issues such as overages, shortages and damaged freight are not allowed to be reconciled using the prototype. From the ACS Reconciliation Prototype: A Guide to Compliance, quantity directly affects admissibility, and by law reconciliation cannot address issues regarding admissibility.
Although participation in the reconciliation prototype is voluntary CBP strongly encourages importers to join, especially if an importer has a high volume of post entry submissions, including disclosures, relating to value, 9802 or NAFTA issues. One of CBP's goals in introducing this prototype was to greatly reduce post entry activity and give importers the opportunity to file one submission in the form of a reconciliation entry.