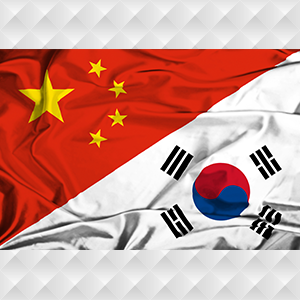 On April 5, 2016, the Ministry of Commerce and the General Administration of Customs of the People's Republic of China released a joint announcement (No. 11 of 2016), which published a list of products that are embargoed in trade with the Democratic People's Republic of Korea (DPRK).
It was alleged in the announcement that the embargoes are based on the relevant resolutions enacted by United Nations Security Council and the Foreign Trade Law of P. R. China.
According to the control list attached to the Announcement, the following products are covered by the embargoes:
Importing coal, iron, or iron ores from DPRK is prohibited. However, there are two exceptions to this.



If the import transaction has nothing to do with DPRK's nuclear or missile programs, and is not prohibited by certain United Nations Security Council's Resolutions.


If coal is transported through the DPRK then exported via port Rason, transaction has nothing to do with DPRK's nuclear or missile programs, and is not prohibited by United Nations Security Council's Resolutions.



Importing gold ores, titanium ores, vanadium ores, or rare earth is prohibited.


Exporting aircraft fuels, including gasoline, naphtha, or kerosene (used by aircraft or rocket) to DPRK is prohibited, with two exceptions.



If transaction has been approved by United Nations Security Council and verified for humanitarian needs only.


If he fuels are provided/sold to civilian passenger planes that are located outside of DPRK, and the amount of fuel provided/sold is just sufficient for completing their flight to and back from DPRK.
6 Things to Remember about China's embargoes:
The embargos covers both import from and export to DPRK, and are restricted to a small number of products such as minerals and fuels.


The controls are HS code based, which means the correct classification of the products is very important.


Unlike U.S. export control system, China doesn't have a country list or an entity list, on which differentiated licensing requirements and procedures can be developed.

Although China has assigned a number of licenses to the relevant HS codes in its tariff book, the control is item/technology based. Due diligence investigation needs to be done by businesses. For instance, if an economic operator missed the announcement, they will not be reminded of the extra compliance obligations when checking the tariff book for applicable trade controls.


Some of the exceptions have ambiguous conditions where subjective perceptions may lead to different conclusions.

The Resolutions of United Nations Security Council has evolved from 2 pages in 2006 to 20 pages in 2016, businesses may feel difficult to acquaint themselves with the background and the notions in order to determine whether or not their transactions qualify for an exception.


In disqualifying the exceptions, the subject who draws the conclusions is not clearly defined although the conclusions will be enforced by Customs at the border.


Even though DPRK is not one of the major trade partners for China, China is an important partner for DPRK and China has been investing in the exploration of the underground resources in DPRK for past decade.

Natural resources used to be the staples DPRK exported to China. However, as China's economy slows down, both the demand for natural resources, particularly coal, and their prices dropped. Moreover, processing trade as an important contributor to China's economic miracle is being exported to DPRK as a successful experience. Consequently, by utilizing DPRK's cheap labor force, textiles may replace natural resources to become the next major commodities that DPRK exports for foreign exchange.
Are the embargoes able to deliver the desired impact? Would DPRK alter its nuclear and missile programs subsequently? We will see...
For more in-depth information regarding the embargoes, please click here to see my LinkedIn post.