With modern age online shopping, our favorite items might just be a click away. When I was living in Shanghai, logistics had become so advanced that the typical lead time from purchasing an item to having it delivered at the door should not take more than 1 or 2 days.
As a consumer, do we ever think about how it is possible for products to be delivered so quickly?
As a customs and trade consultant, I have had the privilege to work with many retailers. We analyze the flow of goods and transactions to optimize supply chain and trade compliance.
One of the very frequently asked questions in recent years would be - what is the quickest way to fulfill while ensuring compliance on customs requirements?
While product fulfillment efficiency may be on the top of most senior management's agenda, as times have changed, compromising trade compliance for speed to market is no longer an option.
As trusted trade compliance professionals, what should we be concerned about?
How can we add value to the company's evolving supply chain and business model?
The Retail Model
For most retail multinational corporations, there are tens to hundreds of suppliers and vendors scattered across different origin countries, one or two or more distribution hubs around the world, possibly complex transactions and buying structures, and most definitely, difficult to navigate trade barriers that are slowing down the supply chain.
The typical retail company is not Alibaba or Amazon.
Yet, there are still high expectations for speed-to-market (while ensuring compliance), under both offline and online business models.
There are typically two types of supply chain models for e-commerce fulfilment: the cross-border B2C model or the traditional import B2B2C model.
Most retail brands that already have a locally established presence in the key Asia markets tend to go with the latter. The goods are imported into the country, stored in a centralized (bonded or non-bonded) warehouse, and subsequently distributed via domestic online platforms.
When deciding on the model, some customs and trade considerations come into play:
Duty rates (cross-border e-commerce goods could be subject to a different duty rate)
Goods value (Transfer Price vs. Retail Sales Price)
Inbound / import declaration requirement
Product inspection requirements
Labeling requirements
Usage of bonded warehouses
Handling of return and out-of-season goods
Companies must consider the relevant customs and trade impacts when determining the most effective Retail Model. There is also, fortunately, quite a lot we can do to optimize our compliance standards and create value for whichever model the company chooses to adopt.
Pushing Back the Border
Customs and trade regulations and practices in the Asia region are complex. Each country has its own legal and regulatory system. In many cases, the fate of our goods can lie in the subjective interpretations of local officials.
Inevitably, we need to adopt more effective ways of managing trade compliance, minimizing supply chain disruptions, and maximizing our chances of adding value to the company.
As customs and trade compliance specialists, we spend much of our time 'firefighting' issues at the border.
Unfortunately, for many companies, managing trade compliance is not always a priority until something has gone awry – customs clearance delays due to goods value, classification, or documentation issues, and goods stuck or forced to be returned due to lack of license or not passing inspections, etc. Instead of finding out what the problem is when it is already too late, why not manage and plan for it before the shipment is released?
A major trend in trade compliance is for both governments and companies to 'push back the border' by moving compliance upstream or taking other preemptive approaches. At each stage of the supply chain before the shipment is released, there is action that can be taken to preemptively manage potential trade barriers: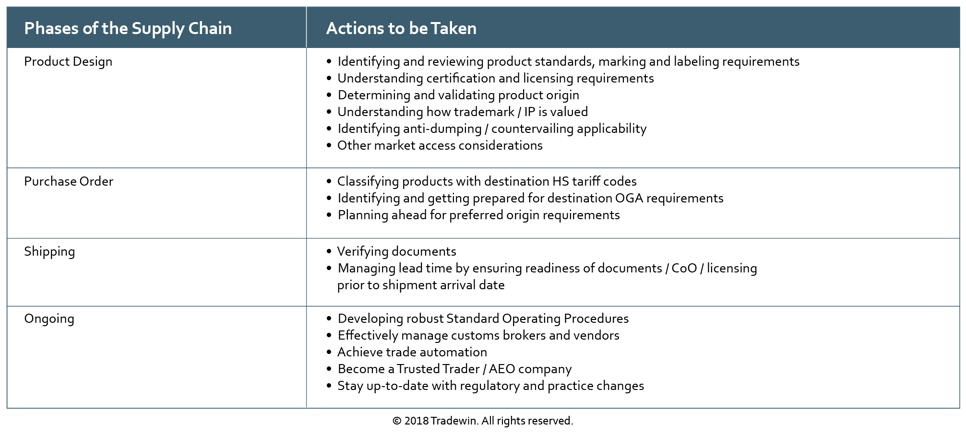 Some of the benefits of having a robust trade compliance function include:
Expedited customs clearance and supply chain lead time
Lower product inspection rates
Better communication and collaboration with other functional departments
Better utilization of duty saving potentials
Understanding what risk mitigation tools are available
As our retail supply chains continue to evolve, we need to undertake the appropriate action to maximize the efficiency and compliance levels of the company's supply chain. The farther upstream we prepare for import requirement the more likely a smooth and fast entry. The earlier we become aware of an opportunity or an issue, the easier it is to escalate and involve the right people for support.