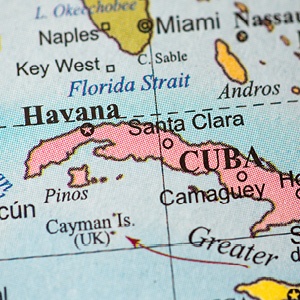 While releasing his National Security Presidential Memorandum on Strengthening the Policy of the United States Toward Cuba, President Trump's June 16th remarks purported to scale back the historic rapprochement the Obama Administration had put in motion during the last two years of that presidency.
However, it may be too soon to tell if anything substantive will truly change in our dealings with the island nation.
What is remaining the same (for now):
The US Embassy in Havana and the Cuban Embassy in DC will remain open.
Flights between the two countries will carry on.
Restrictions on dealing with Cuban companies controlled by the Cuban government remain in place.
Cuban-Americans will be free to travel back and forth and to move money back and forth between the US and Cuba.
In fact, the most telling changes will probably involve the highly publicized policy of Americans visiting Cuba under the so-called "people-to-people" educational activity exception permitted by a Treasury Department general license.
Tourism in its purest sense is still prohibited, so an application for "educational travel" will have to be made through Treasury and booked through a licensed tour operation. Ironically, since they tend to be large groups, visitors may be compelled to stay at larger hotels, many of which are managed by an arm of the government-run Grupo de Administración Empresarial S.A., rather than at some of the smaller hotels or guesthouses that are typically run by "independent Cuban entrepreneurs."
In addition, visitors might face scrutiny when they return to the US, as they may be expected to show the itinerary for their visit while in Cuba. And keep that record for five years – just like any other export record. Civil penalties for failure to follow Treasury rules could reach $65,000.
The Presidential directive gives the Secretaries of Treasury, Commerce, State, and Transportation 30 days to initiate processes to adjust the current regulations regarding transactions with Cuba, so we will have to wait to see what the departments come up with. What becomes of the deals that were made before any change in rules takes effect remains to be seen.
Keep tuning into TradeLane to stay updated on changes to Cuba – US Trade policies.