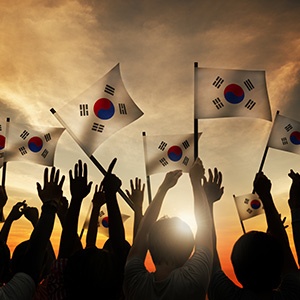 I used to live in the USA. I spent a year in Corvallis, Oregon when I was ten years old. I remember it as one of the happiest times in my life, except for being confused about my national identity. Most of my elementary school classmates thought that I was from North Korea. This is not surprising since the North Korea nuclear issue had been surfacing at that time during George H. W. Bush's presidency. North Korea is still a frequent topic on the famous American TV show, Conan, to this day.
But this is not about North Korea, it's about SOUTH Korea! South Korea (hereinafter "Korea") has achieved a very rapid economic growth. Korea's Gross Domestic Product (GDP) was about 100 billion USD only 30 years ago. But it has increased fourteen fold to 1.4 trillion USD and is ranked the 11th largest economy in the world.
Korea's dramatic economic development has been driven by the growth of its international trade. Not surprisingly, since the entry of its first free trade agreement (FTA) with Chile on April 2004, Korea has been steadily expanding its network of FTA's worldwide. As a result, Korea has become a key FTA nation, which has an extensive FTA network across 14 regions and 51 counties as of March 2016.
Korea is the only country in the world to have signed FTAs with all of the major economic blocs in the world, including the United States, the EU, the ASEAN and China. So you may be able to enjoy an FTA preferential duty rate when importing into Korea from nearly every major export country.
But don't forget "Free Trade Agreements are NOT FREE."
Given this dramatic growth, the Korea customs administration system and related regulations have changed a lot and Korea Customs has become one of the most aggressive in the world.
Let me leave the bad news for my next post.
Lastly, I wish for peaceful reunification of Korea. One day no one will think of North Korea threatening nuclear strikes and people will only think about the abundant trade opportunities in South Korea.
If you have any questions, please reach out to a customs compliance expert in Tradewin Korea. We are happy to help!