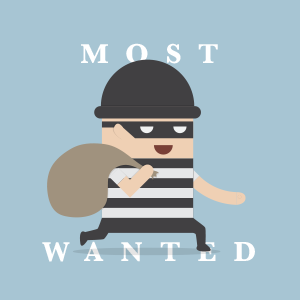 The CBSA Audit Priorities were recently released for the second half of 2016. This gets called many things "Trade Verification Priorities" or the "CBSA Audit Target List" or just "2016 Audit Priorities". Whatever name this gets really doesn't matter, it's a most wanted list.
Yep, the Marshal has put out the targets they're gunnin' for; and if yer importin' them into Canada yer a most wanted importer.
Ok! You can lose the John Wayne or Yosemite Sam voice now.
Two of the biggest targets are: 7326.90 and 3926.90.
They are both catch all classifications with 7326.90 (other articles of steel) and 3926.90 (other articles of plastics). Duty rates for both classifications range from 0% to 6.5%.
Although, articles of apparel Chapters 61 and 62 in valuation could be much more costly. The classifications in these chapters carry duty rates as high as 18%.
So, if you import of apparel into Canada and are found to have under-valued your apparel, you won't get thrown in jail, but the CBSA will make you adjust your imports for a set period of time. You will be required to adjust for an additional 18% duty, plus GST and interest on the difference. There may potentially be AMPS penalty accessed as well.
The CBSA's Audit Priorities are broken out in three categories:
H.S. Classification with 35 different classifications targeted.
Valuation with 3 priorities: Apparel Chapters 61 and 62, Footwear Chapter 64 and Preparations of Pastry Cooks Chapter 19. These are entire chapters of the tariff.
Country of Origin with 2 priorities T-Shirts heading 6109 and Jewelry 7113.11.90, 7113.19.90 and 7113.20.90.
For mid-2016 there are eight new targets all in classification. They are:
Cell phone cases Headings 3926, 4202 and 8517
Mountings, fittings and similar articles Heading 8302
Stone table and counter tops Subheading 9403.90
Prepared meat of swine Heading 1602
Live plants Heading 0602
Interchangeable tools 8207
Air brakes and parts thereof Subheading 8607.21
Handkerchiefs, towels and related paper products Heading 4818
The entire list can be found at this link through the Canada Border Services Agency.
Whatever you want to call this, the CBSA is not horsing around. They have issued their list of the most wanted and you don't have to go to the post office to see it. Don't get caught unprepared if you are an importer of the products targeted on CBSA's list, you are in their crosshairs.
If you are worried that you are unprepared, reach out to us!